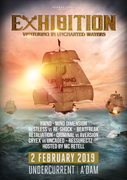 Feest:
Exhibition - Venturing in Uncharted Waters
Datum:
02-02-2019
Tijd:
22:00 - 06:00
Locatie:
Undercurrent
Leeftijd:
18+
Ticketsale:
https://www.ticketkantoor.nl/shop/Exhibition
Prijs:
Early sailor €12,50
Regular sailor €17,50
Line-up:
- Mind Dimension
- Retaliation
- Cryex Vs Uncaged
- Qriminal Vs Aversion
- Ressurectz LIVE
- RWND
- Beatfreak
- Dj Restless Vs Re-Shock
Hosted by: MC Retell
The area of the NDSM shipping yard has a rich history dating back to our golden age. Over the course of hundreds of years the Dutch were world leaders when it came to building ships.
Nowadays we still use the NDSM area, but no longer to build ships. Today we are world leaders when it comes to electronic music, and we proudly use the NDSM area to build our talent.
Saturday February 2nd Upcoming Events will once again be filling a stage at Undercurrent with the future of the harder styles. Our ships with some of the most talented dj's in the scene will set sail to conquer the world once more.